the day starts with me falling off my bike twice, maybe cos it's a boyz bike and too big for me, maybe cos i was half asleep at the time. anyway i am glad the boyz are inside the pod and don't witness this sad sight, they just get to see my grazed elbow for the sympathy vote, and the bruise on my inner thigh doesn't appear until later in the day and i'm not gonna show em that anyway!

marko tells us it is the month anniversary of him arriving in australia. he makes us a delicious *low yield macrobiotic* lunch of rice and tofu and green beans which we eat late in the day, time always warps out here in labland. Makrolab is a 10 year project designed by slovenian angel agent Marko Pelhjan aimed at enabling art and science collaborations. There are 3 global fields which the lab focuses on: telecommunications, migrations, weather systems. The idea is that these systems can provide a critical context of what we do, how we work, and how we perceive the world. The lab, being a concentrated space/time system itself, has the potential to function as a more creative and productive research environment than a larger social system. marko invites artists and scientists to come a work in the lab as it travels around the world on its own migration drift. i'm serenely habituated to living in this silver pod already, it's a cool ghost doll dreaming space.

the setting up of the interior structures and systems is almost complete now. the lab itself took 2.5 days to be assembled, with a crew of seven people. there are still communication systems to be connected and tested, and the internal fixtures to be sorted. with up to 6 people living and working in quite a small space, organisational systems are critical. we are allowed one container each for our personal gear, and our bunk beds, being designated as *private space*, can be as messy as we like :-)

the lab is powered by a solar power unit, which generates enough energy to run at least 4 computers, sound system, surveillance cameras, refrigerator, water pump, lights and random items of tech which are often in use. it is probably fortuitous that every day has been radiant. the waste water is treated with microbes to break down the fats and soapy substances. it is intended that the lab have as little impact as possible on the surrounding fragile ecosystem.


the boyz install the 2 surveillance cameras so our working/eating/sleeping can be viewed online, with images being updated every 30 seconds. ratgirl is emailing me from sydney tracking my ghost body as i change outa my swimming cossie and stare seriously at the computer. she asks me if i'm sad cos of other_marco, but i think i'm just wearing my usual computer frown.




today has been not so productive as yesterday for me in terms of churning out images for my project *los dias y las noches de los muertos* but i make a couple of new pix.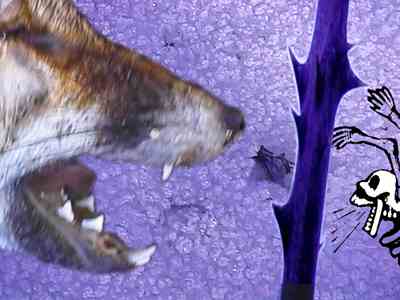 in the evening the boyz do stuff with sensing systems or perhaps that is what they are doing, i'm not really sure, and i make a field recording of sounds within the lab for tinyK, who made the 'soundtrack for an empty dollspace'. this means i was finally forced to figure out the interface on my sony minidisk walkbot, and like mikey says, it's a crap interface and the buttons are way too small and the menu system is very trick_me and i accidentally record over some tracks (but fuck it, the MD itself is tiny and blue and looks good just hanging about with the drab grey tech here, and of course the sound quality is ultra clean being digital and all, so mikey can keep his oldskool russian retro sharp or whatever it is that he has)